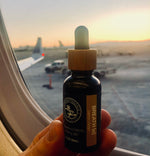 Now that you are looking to take your first trip in a long time, you definitely want to bring your CBD Oil to help maintain your regimen as well as address any potential worry you might feel in this new world of travel. You may also be unsure about whether it's OK to take your CBD products on an airplane. Does the Transportation Security Administration (TSA) check for such things? Are laws and regulations different in other states or countries? We'll answer these questions and more below.
Read below to learn the rules and regulations behind taking CBD onto an airplane.
The Basics of CBD products
It's critical to understand exactly what hemp-derived products like full-spectrum CBD oils, creams, and gummies are before talking about whether or not you can travel with them. Full-spectrum CBD products, like Kyoto Botanicals premium CBD tinctures, contain the naturally occurring phytocannabinoids found in the hemp plant, including a very small percentage of THC, the element that causes the "high" associated with marijuana. As of 2018 and the passing of the Farm Bill, the level of THC in hemp grown in the US is federally mandated to be less than 0.3 percent, which is not enough to produce an intoxicating effect.  When flying, this law plays into whether or not your CBD products can be brought with you.
Can you fly domestically with CBD products?
The short answer is yes, you can bring hemp-derived CBD products on a plane while flying in the United States.
When conducting screenings, TSA officers are looking for anything that's not allowed in the cabin during air travel, from guns and explosives to liquids purchased outside the security gates. However, thanks to the Farm Bill, this doesn't include CBD. The TSA website says "Marijuana and certain cannabis infused products, including some Cannabidiol (CBD) oil, remain illegal under federal law except for products that contain no more than 0.3 percent THC on a dry weight basis or that are approved by FDA." Meaning, if your CBD products conform to the limit of THC outlined by the Farm Bill, like all Kyoto Botanicals botanical CBD products, it's perfectly fine to bring them with you on a plane.
To be safe, review the certificate of analysis for your CBD products to confirm that they contain less than 0.3 percent THC. All of Kyoto Botanicals certificates of analysis are available on individual product pages and meet this standard of having less than 0.3% THC. For an added level of comfort, feel free to print the CoA for your particular CBD product and bring it with you on the plane.
If the product will be in your carry-on bag, it must contain less than 3.4 ounces of liquid, ointment, cream, or balm, be contained in a shatter-proof container, and should be included in the transparent quart-size bag of such items that you take out of your suitcase to put through the TSA screening machine. In this case, it may be more beneficial to opt for products like Kyoto Botanicals CBD gummies because they have plastic containers instead of glass.
Can you fly internationally with CBD products?
Flying internationally with CBD is where things get more complicated because regulations on the level of THC allowed (and classifications of products) change from country to country. SmarterTravel says "professionals strongly advise to err on the side of caution and leave products with any cannabinoids (including hemp-derived oils) at home, especially because some countries have much stricter drug laws." 
Regulations for different countries
Some countries do not allow CBD at all. Others do with a prescription. A couple allows a THC level greater than 0.3 percent (Italy allows 0.6 percent, for instance), while other countries allow no greater than 0.2 percent THC (lower than the United States' allowed level) or none altogether (the United Kingdom mandates 0%, for example). If you are traveling internationally, make sure to check the regulations for the country you are traveling to, and if in doubt, it is always best just to leave your Kyoto Botanicals CBD products at home.
The best CBD products for air travel
Now that you know what can and can't be brought on a plane let's talk about the best CBD products to bring with you while traveling:
The Bottom Line 
If you're traveling in the United States, you're generally going to be fine traveling with hemp-derived CBD products if the products you have conform to federal government regulations. Internationally, you'll want to check out the regulations of the countries you're visiting, but in general, traveling with CBD internationally is much stricter. To learn more about CBD and CBD products, take a look at our FAQ page or reach out to us directly.